YachtCloud is proud to reveal a brand new website, logo and brand slogan as part of an intensive rebranding process. Launched on November 23rd, the new website and fresh branding represent the core of YachtCloud's guiding philosophy: to set new standards in luxury technology to make the ultra-luxury experience smarter, more personal and complete.
As Andre Klepper, YachtCloud Founder, explains, the cancellation of events, travel and more over the past few months provided a rare opportunity to shift focus, and invest in a complete rebranding project. "We're all excited to share the brand new YachtCloud and launch our totally refreshed website. We've taken the past challenging few months and used it as an opportunity to polish and refine our story. Our new website and logo represent who we are: a cool, fresh, innovative company creating truly unique technological products for some of the most exclusive luxury environments in the world. Our mission has always been to bring true innovation to the yachting and luxury industries, and our rebranding represents just that."
Technology for Luxury
The new YachtCloud brand slogan is Technology for Luxury, a representation of YachtCloud's dedication to creating products purpose-built for the luxury environments they serve. Explaining the philosophy behind YachtCloud's new brand slogan, Klepper continues. "Technology for Luxury means that we design our products around the requirements and expectations of a luxury environment. The experience of the end-user is put first. Technology has evolved, but the technology we currently see in luxury environments often leaves a gap between what the technology is capable of delivering and high client expectations. Our products bridge that gap and take luxury technology into the future."

The YachtCloud lineup comprises six products: OMNIYON, GEST, YIS, CrewBoard, LaundryBoard and Symetric. From complete media and control systems to superior service call devices, each YachtCloud product bridges that gap in the market. Prioritising user-experience and functionality, YachtCloud makes luxury technology easy, simple, and a pleasure to use.
The YachtCloud product lineup
OMNIYON, YachtCloud's flagship product, was launched at the Monaco Yacht Show in 2015. OMNIYON immediately made waves with its unique blend of media and comfort control, fresh design and unbeatable usability. Since then, OMNIYON has been installed on a number of the world's best superyachts, proving the market demand for new technology designed with the luxury experience in mind.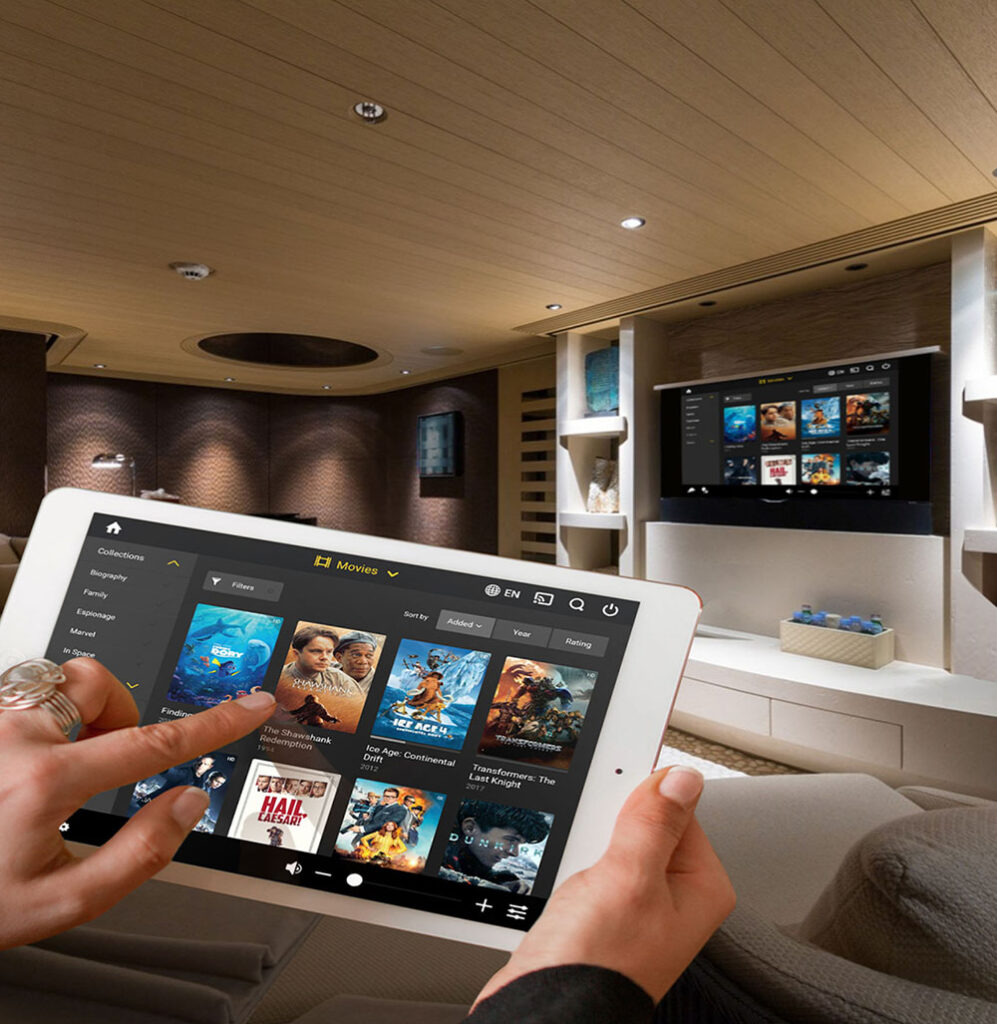 "Too often we see luxury systems offering a user experience that was barely acceptable in the late 90s," Klepper continues. "OMNIYON proves that clients are looking for something better and that we are equipped to deliver on that demand. The new YachtCloud website and logo are at the heart of our rebranding project. They show something that our clients already know. That we are game-changers when it comes to creating unique technology purpose-built for luxury."
Since 2015, the YachtCloud lineup has expanded. It includes GEST, the chic service call system, CrewBoard and LaundryBoard, crew and service professional apps designed to revolutionise efficiency. YIS is a unique Yacht Information System and the latest product from YachtCloud lineup. Explore the new YachtCloud and step into the future of luxury technology.